Add to your watchlist
Keep track of this movie and find London showtimes faster.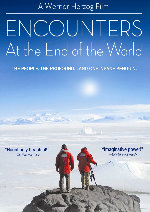 Encounters At The End Of The World
Filmmaker Werner Herzog travels to Antarctica to meet the men and women who call this icy wilderness home, and share the continent with wildlife including the penguins. Based at the McMurdo research station, the director finds colourful characters everywhere he turns.
Play trailer