Add to your watchlist
Keep track of this movie and find London showtimes faster.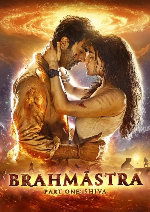 Brahmastra Part One: Shiva
Young DJ Shiva unknowingly holds the power to awaken an otherworldly weapon. He falls deliriously in love with Isha but this pure, burgeoning romance is threatened by Shiva's destiny and his deep connection to the elemental force of fire. Good and evil clash when the queen of darkness, Junoon, conceives a wicked scheme to seize the same weapon and reshape the universe in her villainous image.
Play trailer