Add to your watchlist
We'll let you know when this movie is showing again in London.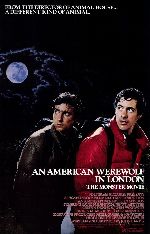 An American Werewolf In London
David Kessler and his buddy Jack Goodman trek across the north of England with their backpacks, stopping off for a drink at a pub called The Slaughtered Lamb. Told by the locals to stick to the road, the American visitors pay no heed to the advice and head onto the moors where a large wolf kills Jack and badly injures David. He recuperates in a London hospital under the care of nurse Alex Price, unaware that he is now a werewolf at the mercy of the moon.
Play trailer