Add to your watchlist
We'll let you know when this movie is showing again in London.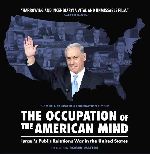 The Occupation Of The American Mind
Israel's ongoing military occupation of Palestinian territory and repeated invasions of the Gaza strip have triggered a fierce backlash against Israeli policies virtually everywhere in the world -- except the United States. The Occupation of the American Mind takes an eye-opening look at this critical exception, zeroing in on pro-Israel public relations efforts within the U.S. Narrated by Roger Waters and featuring leading observers of the Israeli-Palestinian conflict and U.S. media culture, the film explores how the Israeli government, the U.S. government, and the pro-Israel lobby have joined...
Play trailer