Add to your watchlist
We'll let you know when this movie is showing again in London.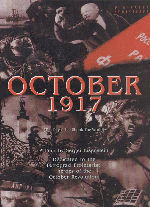 October 1917 (Ten Days That Shook The World) (Oktyabr)
In documentary style, events in Petrograd are re-enacted from the end of the monarchy in February of 1917 to the end of the provisional government and the decrees of peace and of land in November of that year. Lenin returns in April. In July, counter-revolutionaries put down a spontaneous revolt, and Lenin's arrest is ordered. By late October, the Bolsheviks are ready to strike: ten days will shake the world. While the Mensheviks vacillate, an advance guard infiltrates the palace. Anatov-Oveyenko leads the attack and signs the proclamation dissolving the provisional government.
Play trailer