Add to your watchlist
We'll let you know when this movie is showing again in London.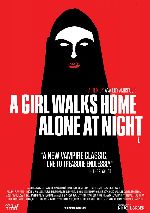 A Girl Walks Home Alone At Night
In the fictitious Iranian community of Bad City, handsome Arash dreams of a brighter future over the horizon, far from his drug-addicted father, Hossein. Debt mounts and Arash works as a pimp for a prostitute called Atti, who is past her prime. In his search for a new trick, Arash stumbles upon a seemingly quiet and assuming girl. He underestimates the girl at his peril and quickly learns that you shouldn't judge a voracious bloodsucking vampire by her demure appearance.
Play trailer