Add to your watchlist
We'll let you know when this movie is showing again in London.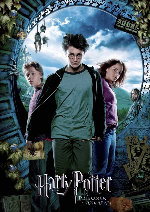 Harry Potter And The Prisoner Of Azkaban
Sirius Black, a convicted killer of 13 people, has escaped from the prison of Azkaban and is making his way to Hogwarts to find the boy wizard. The prison's guards, the hideous Dementors, descend upon the school to protect the teachers and students from Black. However, the presence of these horrific creatures, who literally suck the life out of their prey, sends a chill through Harry's heart.
Play trailer