Add to your watchlist
We'll let you know when this movie is showing again in London.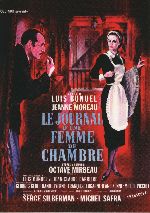 The Diary Of A Chambermaid
Celestine, the chambermaid, has new job on the country. The Monteils, who she works for are a group of strange people. The wife is frigid, her husband is always hunting (both animals and women) and her father is a shoe-fetishist. Joseph, the farm-labourer is a fascist and sexually attracted to Celestine. Celestine settles herself and talks to the neighbour, an ex-officer, who likes damaging his neighbour's things. After the death of the old man, she quits her job, but because of the rape and murder of a child 'Little Claire' she decides to stay, believing that Joseph is the murderer. To get hi...
Play trailer