Add to your watchlist
We'll let you know when this movie is showing again in London.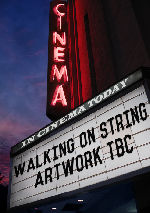 Walking On String (Rah Raftan Rooye Sim)
A tanbur player who comes to the city to look for a job, gets invited to join an underground band by a family friend's daughter. Just when you think a journey that will take them to success is about to begin, they get sucked into a whirlpool of crime. Walking on String is a riveting crime film that also successfully manages to tell a sweet story of music and friendship.