Add to your watchlist
We'll let you know when this movie is showing again in London.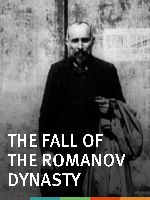 Fall Of The Romanov Dynasty
In May 1913 the Romanov Dynasty celebrates its 300th anniversary at the Russian throne. The last emperor in the long line is czar Nicholas II. He rules over a country with huge social and economic differences. Russia is for the most part still an agrarian society, but capitalism and its industries are growing. In 1914 Russia gets involved in the First World War. Czar Nicholas II declares a general mobilization. A vast number of peasants and workers have to go to the front as soldiers. After three years the country is ruined by the war, and there is a shortage of provisions. In February 1917 wo...