Add to your watchlist
We'll let you know when this movie is showing again in London.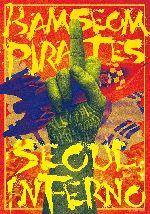 Bamseom Pirates Seoul Inferno
Embracing nihilism, protest, politics, rebellion and a strong sense of humour, young Korean band Bamseom Pirates give a masterclass in punk activism. A grindcore duo in the Lightning Bolt style – drummer and singer – and miles away from the bubblegum of K-pop, Bamseom Pirates play at political benefits and occupations protesting privatisation. They often face violent opposition, with hired thugs paid to smash up their gear. But it's their hilariously sarcastic lyrical content, including the ironic championing of Kim Jong-il, that gets them into deep trouble, especially when their manager...
Play trailer