Add to your watchlist
We'll let you know when this movie is showing again in London.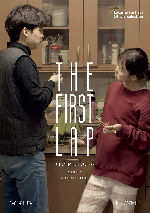 The First Lap (Cho-haeng)
Su-hyeon, an aspiring artist who is resigned to teaching, and Ji-young, who works in the news business, have been living together for six years. Their generally docile existence is interrupted when Ji-young reveals her period is late. This unexpected occurrence looms over Kim Dae-hwan's Cho-haeng (The First Lap), the second in his "family trilogy," following the Busan-winning Cheol-won-gi-haeng (End of Winter). Shot during the candlelight protests against former President Park Geun-hye, Kim's film focuses on two family visits, the first to Ji-young's well-off parents, who live in an...