Add to your watchlist
Keep track of this movie and find London showtimes faster.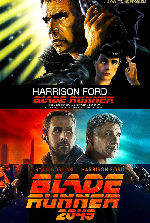 Blade Runner Double Feature
Blade Runner: The Final Cut (117 mins) - A blade runner must pursue and try to terminate four replicants who stole a ship in space and have returned to Earth to find their creator.
Blade Runner 2049 (164 mins) - A young blade runner's discovery of a long-buried secret leads him to track down former blade runner Rick Deckard, who's been missing for thirty years.
Play trailer