Add to your watchlist
We'll let you know when this movie is showing again in London.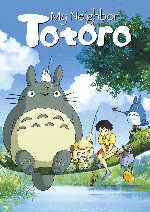 My Neighbour Totoro (Dubbed)
Satsuki and her sister Mei move into an old house in 1950s Tokyo with their father, university professor Tatsuo Kusukabe, whose wife Yasuko is recovering from serious illness. The children are delighted to find that tiny dust creatures inhabit their new home, which are visible when the girls move between darkness and light. Mei explores the property and stumbles into a magical briar patch, where she befriends a rabbit-like spirit, which she christens Totoro.
Play trailer