Add to your watchlist
Keep track of this movie and find London showtimes faster.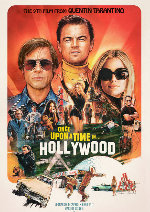 Once Upon A Time In Hollywood
In 1969, failing TV actor Rick Dalton, alongside best friend and stuntman Cliff Booth, attempt to navigate a rapidly changing Hollywood. Along the way they encounter egotistical movie stars, murderous hippies, and actress Sharon Tate, whose destiny is inexplicably intertwined with their own.
Play trailer