Add to your watchlist
We'll let you know when this movie is showing again in London.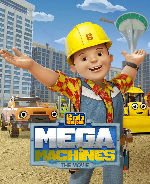 Bob The Builder: Mega Machines
Scoop, Muck and Lofty can't wait to help Bob with his biggest build ever - building a dam and transforming an old quarry into a reservoir to provide Spring City with fresh water. Bob enlists the help of another builder, Conrad, to help clear the quarry - along with his three enormous Mega Machines, Thud, Crunch and Ace. Conrad, secretly resentful that he lost out on the dam-building contract to Bob, plots to undermine his rival's reputation and sabotages the dam. Soon Bob realizes that things are not as they should be- and that it's up to him and his team to save Spring City!
Play trailer