Add to your watchlist
We'll let you know when this movie is showing again in London.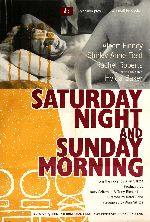 Saturday Night and Sunday Morning
All I want is a good time. The rest is propaganda. That's the philosophy of archetypal British angry young man Arthur Seaton (Albert Finney). A middle-class working stiff in a dead-end job, Arthur's principal goal in life is to survive the work week, then spend the weekend raising as much hell and drinking as much beer and other liquor as possible. Since pleasure is all that Arthur lives for, he thinks nothing of starting up an affair with the wife (Rachel Roberts) of one of his co-workers (Bryan Pringle). His efforts to secure her an abortion when he gets her pregnant stem not out of concern ...
Play trailer