Add to your watchlist
We'll let you know when this movie is showing again in London.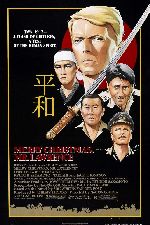 Merry Christmas Mr. Lawrence
Merry Christmas, Mr. Lawrence was the first English-language project of Japanese director Nagisa Oshima (Death by Hanging, In the Realm of the Senses). In tune with his previous filmic essays on racism and brutality, Merry Christmas concentrates on a war of wills between rebellious POW David Bowie and camp commandant Ryuichi Sakomoto. Assuming that his other prisoners' unwillingness to protest their cruel treatment is a sign of weakness, Sakomoto is most impressed by Bowie's enigmatic defiance. While Bowie and Sakomoto seem to be operating on a high spiritual and intellectual plane, bilingual ...
Play trailer