Add to your watchlist
We'll let you know when this movie is showing again in London.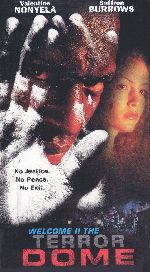 Welcome II The Terrordome
Racial conflicts provide the impetus for this heavy, socially conscious British drama. The film begins in North Carolina, 1652, as an Ibo family calmly walks into the sea to drown themselves. To them death was preferable to slavery. The film quickly shoots into a future time, not too distant from our own, where the incarnated family lives in the Terrordome, a rundown ghetto neighborhood. There viciously racist Anglo policemen continually spar with drug-dealing gangs. Spike, a black gangster, is in love with a white woman. She's pregnant and ends up having an abortion after her former boyfriend...
Play trailer