Add to your watchlist
We'll let you know when this movie is showing again in London.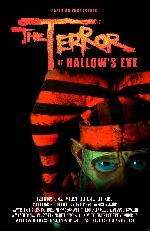 The Terror of Hallow's Eve
Fifteen-year-old Timmy Stevens is brutally beaten up by High School bullies on Halloween. Yearning for revenge while carving out a pumpkin head, unknowingly he summons up the evil spirit of the hideous Scarecrow. And before long Timmy has unleashed a mighty supernatural force offering to grant his dark desires to scare his hated enemies to death. Be careful what you wish for! From writer/director Todd Tucker (MONSTER MUTT), special make-up genius behind PIRATES OF THE CARIBBEAN, THE CURIOUS CASE OF BENJAMIN BUTTON, OUIJA, FRIGHT NIGHT 2 and GEOSTORM, a charmingly chilling, affectionately creep...
Play trailer