Add to your watchlist
Keep track of this movie and find London showtimes faster.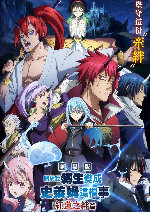 That Time I Got Reincarnated as a Slime the Movie: Scarlet Bond
Corporate worker Mikami Satoru is stabbed by a random killer, and is reborn to an alternate world. But he turns out to be reborn a slime! Thrown into this new world with the name Rimuru, he begins his quest to create a world that's welcoming to all races.
Play trailer