Add to your watchlist
Keep track of this movie and find London showtimes faster.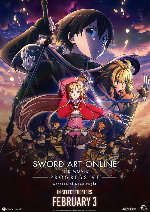 Sword Art Online the Movie: Progressive - Scherzo of Deep Night
Over a month has passed since 10,000 users were trapped inside the "Sword Art Online" world. Asuna, who cleared the first floor of the floating iron castle of Aincrad, joined up with Kirito and continued her journey to reach the top floor.
Play trailer