Add to your watchlist
We'll let you know when this movie is showing again in London.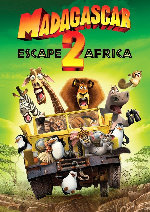 Madagascar: Escape 2 Africa
Alex the lion, Marty the zebra, Melman the hypochondriac giraffe and Gloria the hippopotamus are finally ready to leave the exotic island of Madagascar and return to the plush surroundings of New York's Central Park Zoo. Boarding a rickety plane with ring-tailed lemur King Julien the 13th, his second-in-command Maurice and the penguins - Private, Rico, Skipper and Kowalski - the animals crash-land shy of their destination, ending up on the plains of Africa where Alex comes mane-to-mane with his long lost father Zuba.
Play trailer