Add to your watchlist
Keep track of this movie and find London showtimes faster.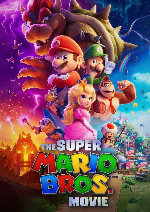 The Super Mario Bros. Movie
Brooklyn plumbers Mario and Luigi are fixing a leak to a water main when they are transported down a mysterious pipe into a magical land. The brothers are subsequently separated and Mario embarks on a quest to track down Luigi, assisted by Princess Peach, ruler of Mushroom Kingdom, and her loyal subject Toad.
Play trailer